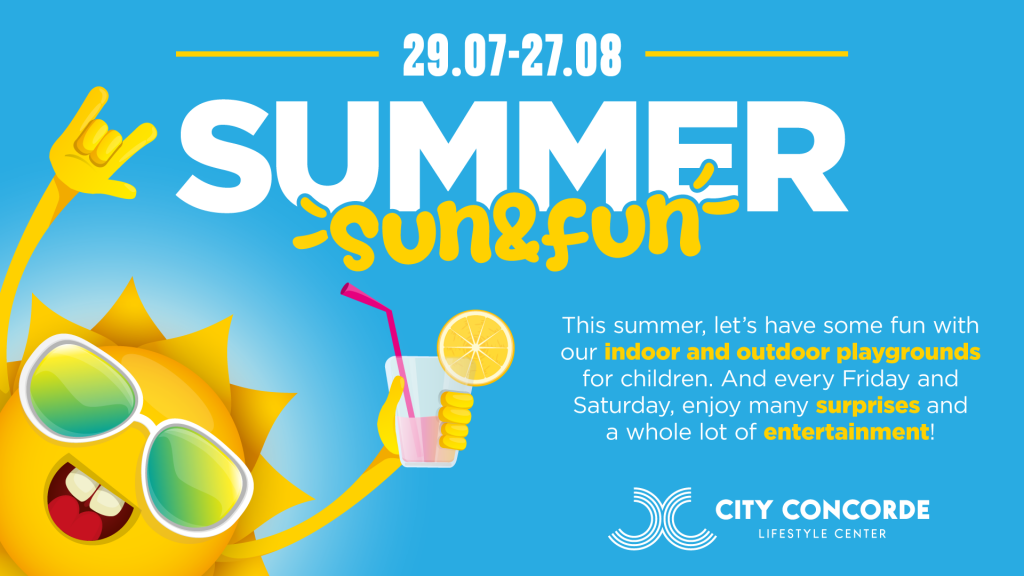 SUMMER, SUN & FUN – Enjoy the holidays at City Concorde ☀️
This summer, come and have some fun with your children,
from July 29 'til August 27
, on our indoor and outdoor playgrounds.
During the week, you'll find a
giant playground
in the mall, next to Bram.
And
every Friday and Saturday
, we'll surprise you with
XXL games, free tastings for your little ones, creative workshops and much more!
What's planned?
29-30.07 |
Popcorn party
– 14.00-18.00
30.07 |
Fake tattoo glitter
– 14.00-18.00
05-06.08 |
Cotton candy party
– 14.00-18.00
06.08 |
Sculpteur de ballons
– 14.00-18.00
12-13.08 |
Cotton candy party
– 14.00-18.00
13.08 |
Fake tattoo glitter
 – 14.00-18.00
19-20.08 | 
Slushi party
– 14.00-18.00
20.08 |
Sculpteur de ballons
– 14.00-18.00
26-27.08 | 
Crêpes
bar by
Fischer
– 14.00-18.00
27.08 |
Fake tattoo glitter
 – 14.00-18.00